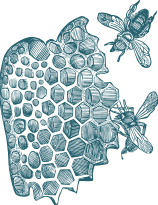 Tío Tobas'team
Our origin is a destination with future potential
The most important thing for us is our clients' happiness. We do our best so you can live a unique, enriching experience, and because of it and precisely for that reason, we work every single day in this family business that focuses on being close, friendly and kind.
Our challenge has been, is and will be keeping alive the essence and history of the caves together with the traditions and habits from our region and make a tribute to life out of it in wild nature.
Currently, our business is still run by the of Tío Tobas' descendants, but our family has got bigger with a number of professionals that share and spread our spirit to keep giving unique experiences to those who wish to visit Casas Cuevas del Tío Tobas.
Tío Tobas' Story
"He who much gives, much receives"
More than 100 years ago Tío Tobas started to build some caves, acting on his need to shelter his 10-children family and his shepherds Curro and TIno. We did all this work during the winter, when the rain and the snow made impossible to carry out agricultural tasks.
Tío Tobas' first cave had 17 bedrooms, which meant that the hill where it was located were drilled with many front windows dug by the "Panderos".
Our caves were in the first place the habitual or holiday housing of Tío Tobas, his biological family and some of the shepherds working for him. Little by little and generation after generation they started turning into the rural and natural leisure and tourism complex that it is nowadays, a hundred years after Tío Tobas decided to settle here.
Tío Tobas, cautious and with a calm mood, as it can be observed in the picture, become eventually the mayor of Alcudia de Guadix, being farming his main job. When he used to produce wine, he opened a tavern that did not close until the crops were harvested. This fact got his cave to be called "Tío Tobas' inn".
Back in that time, a cart would go over the place the caves were located, as if it were a modern long-distance bus. People from Marquesado would also use it to go to Guadix and sell eggs there.
The following anecdote tells about Tío Tobas' character:
There used to live a knight in the region known as Don Hipólito, who became so rich that rumour had it that he even counted his money with pints for weighing up grains. But things started to go wrong for Don Hipólito and he sold his houses to Tío Tobas. Later on, having Don Hipólito gone ruined completely, Tío Tobas gave him one of his caves for him to live until the day of his death.
Tío Tobas' kindness

remains our hallmark
Comments from our guests
Testimonies of our main mission: your happiness
9.2
"A great discovery"
We had another place in mind, but we stopped to have lunch and decided to stay. Never had we been inside a cave and it was a wonderful discovery. The cave houses are a delight in summer, when we were there. They are very cool. It's a luxury to take a nap there. They are really peaceful and you can sleep like a baby. The price is truly good and not expensive at all. There's no doubt we'll repeat again!
Enrique Chaves - Extremadura (14/07/17)
9.7
"It was indeed a pleasure!"
The direct contact with nature, the tranquillity in the air and everything is just close to the highway. We could bring our dog with us and for free, cool! The staff were more than lovely, always attentive and helping us with anything they could. We stayed in a studio, with everything we needed. We will repeat as soon as we can make it, because it's really worth it.
Antonio Serra - Madrid (29/06/17)
10
"They made me feel at home"
This is the ideal place to get away in front of a fireplace, rest from the stress of the city in their quite, cosy, rural caves, which are filled with details. There are an endless number of activities to do in the area, such as getting lost among its castles or incomparable views to Sierra Nevada. The staff make you feel at home.
Paqui Rincón - Andalucía (30/03/17)
See more comments
Try out a unique experience and feel the benefits from staying in a cave